Keeping Earth Sustainable
June 19, 2018
After being a part of the hair and beauty biz for over 30 years I had reached the point where I wanted to fulfil my ambition of creating an organic and natural world class salon. With the help of my husband Ollie my dream has come true by playing my part in establishing Christchurch's first sustainable eco salon right in the heart of the CBD.
The question I was faced with was "How do I make a salon as sustainable as possible and keep the high standards I have strived to develop?"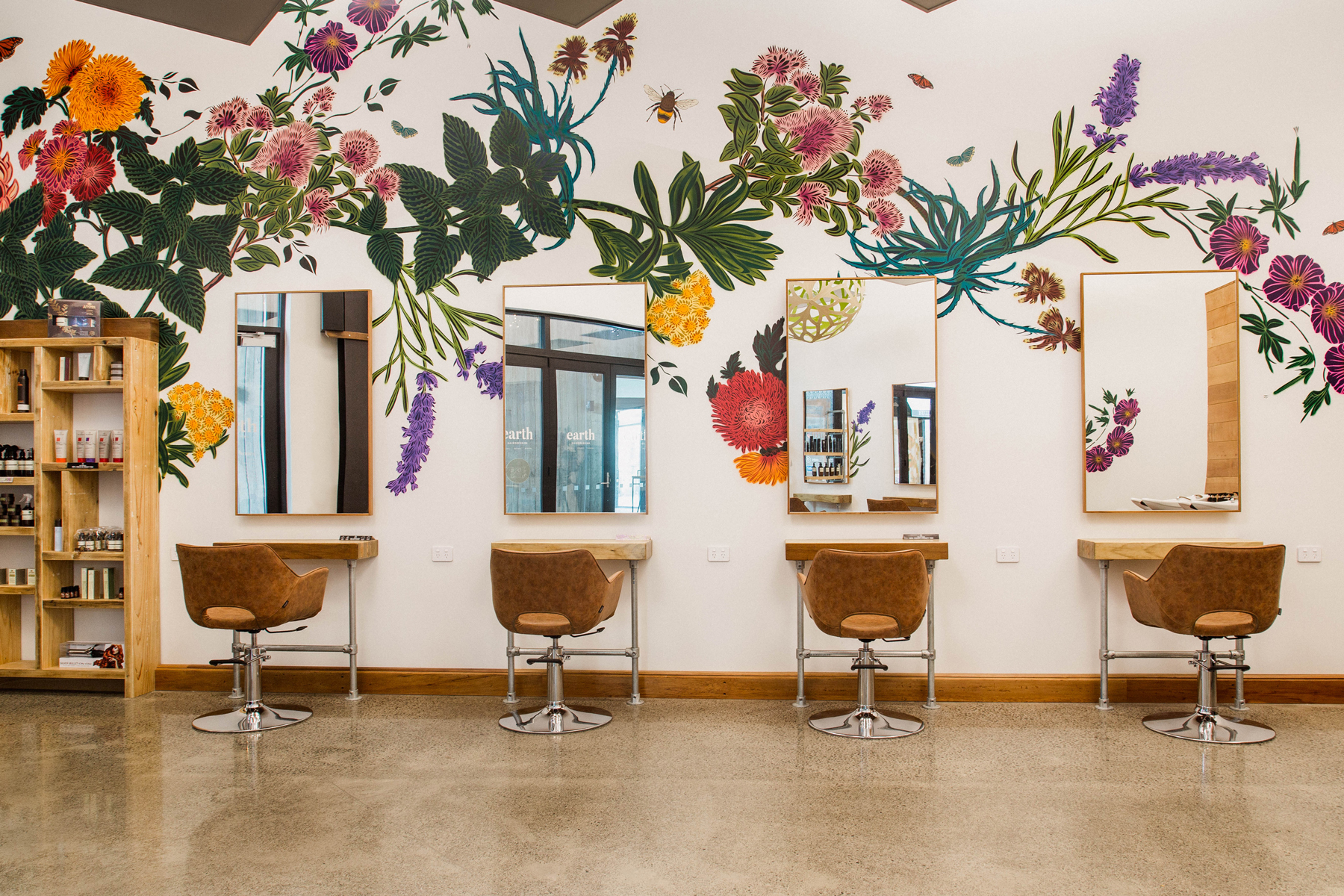 The design was very important to me and is unique to Christchurch. I wanted a relaxing natural oasis for clients and staff but without creating a giant carbon footprint that usually comes with shop fit-outs. I'm very fortunate that my husband Ollie is a joiner and was able to craft most of the furniture from recycled wood and for our feature wooden wall he found NZ Beech wood from a sustainable forestry project in Southland, giving us a warm natural and calming environment. The botanical mural was designed by Flox and contains elements of our organic products active ingredients, helichrysum, mint, lavender and ginger to name a few. It's just like sitting in a floral jungle!
Water, heating and lighting are some of the biggest energy users in a salon so to tackle this we have two smaller water tanks to cut down the overheating of water which are then set at a lower temperature. For lighting we went with LED low energy light panels. To take things a step further we also have a giant hair and product filter at the basins to stop waste going down our drains and into the water table.
As holistic hair stylists, we abide by our 'Fabulous for you Fantastic for the planet' mantra, meaning we do no harm to the health of our clients, environment or ourselves. So, our day-to-day operations should also consider the direct impact we are having on the planet. Are we contributing to the waste problem or are we finding a solution? As guardians of the environment, we should be doing the latter. And it starts in our own salon.
Foils, hair treatments, hair colours – these are only three items from a long list of salon-generated waste. From the plastic product containers to the rubber gloves and even the tiniest bit of leftover hair colour, all these either find their way into our water supply or end up in landfills. So how do I minimise this?
Here is how……Our hair colours are 100% plant based and 100% biodegradable the packaging is made from fully recyclable materials, even the tubes and caps! They also have certified organic ingredients. We have a zero tolerance to animal testing right the way up the chain, we do not use products that have a parent company that test on animals or sell in China. Our De Lorenzo range is 100% vegan and is formulated, manufactured and distributed from Sydney, Australia. None of our colours contain PPDs, resorcine or other nasty ingredients. The rest of our styling products are certified organic, plant based and 89% natural. No sodium lauryl sulfate or laureth sulfate, no mineral oil, no petroleum, no propylene, no animal testing, GMP and FDA certificated. We also use recycled aluminium foil which is recycled by us and last but not least we have just started composting our hair clippings, coffee grinds and food waste!